The One when I stayed up late
It is 2.25 am, Christmas morning, as I typed my thoughts on my laptop on the comfort of my bed.
Just came back from watching the movie with a couple of friends, those who I had been talking about, friends since my secondary school days. In another 2 years, we will be, well, celebrating our 20 years of friendship. Seems like a long long time. and as I always says, friends made in secondary school are usually there for keeps. I am one good example.
As the years goes by, I find myself lacking more and more in the Christmassy spirit and of course the fun-lovingsy mood. There were no wild parties or night out. Dinner was a quite affair with a couple of my friends and family. There was the turkey bought from carrefour, the homemade pasta, the mash potatoes and the salad. For dessert we had the x mas log cake from swensens- which by the way was way too much rum. After movie, we popped by Maxwell market for drinks ( and i mean non alcoholic) and started planning for another friend's wedding coming on the 28th december.
My girl girl needs her sleep and we were back by 2am. I feel that I am really getting old and, more and more family oriented.
Anyway just wanted to take this opportunity to thank the girls, Germaine, Jaclyn, Zoe for their greeting cards, and Huajia, felicia for their x mas smses. Sorry if I miss your, it is unintentional...
My pet dog trafford also want to say hi and merry x mas to all.
Merry Christmas everyone! Anyway got this shamelessly from another website Very farny, the
Hokkien version for X mas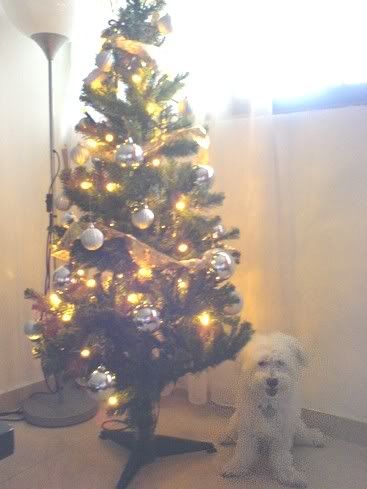 Trafford posing beside the X mas tree my wife decorated