Merry Christmas to All!!
This has been a great year and I realise that I have not been blogging for ages. Went out to a ex-student house for a
Christmas celebration
on the 24th and of course been the filial son that I am, brought my parents to Orchard Road last night for a spin to look at the beautiful but less than spectacular lights along the busiest street in Singapore. The roads seem so empty, must be from the hangover of the Christmas Eve celebrations. But then again , the people pushing people scenario along the long stretch of Orchard Road was indeed crowded. Punks, young and old,
filipinos
with a night off and male Bangdaleshis holding hands in a
la Viva Gay Vegas
. But then again what is it about the whole Christmas without an old scrooge like me to poke fun at everything that I have seen and read?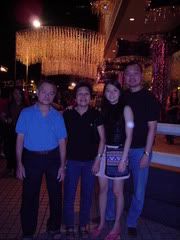 Anyway I had been pretty
disturbed/horrified/surprised/ pissed
by a lot of things that were happening in Singapore and around the world for the past few weeks. As a Christmas present, I would now unload my 2 cents worth of comments. Are you ready??
China rewards diligent teachers with a present - a brand new car
I beleive that Singapore MOE feel that rewarding teachers with a 2 and a half months worth of bonuses is enough to get the teacher to slog like dogs ( damn it really rhymes!!) Anyway I can see that at least the Guangzhou province, if I am not
mistaken
, clearly show their respect for the hard work of the teachers. Not that i have anything to complain about but sometimes I really wondered, we teachers
slogged like mad
and then we have to rush for the holidays with the rest of the other schooling kids, and worst pay peak prices for airport, airport taxes and of course hotel accomodation. And thanks alot MOE if you really factor in these inflation in prices, the bonus you gave us is really not a bonus at all. But then again, I must really thank them for providing such a long holidays for us teachers, wait a minute, the holiday is going to come to an end soon...
Teacher couple die in New Zealand honeymoon when their car crashed
It really hurt to see another of our comrades-in-arms die for such a unworthy cause. Please do not be misunderstood, I am not trying to poke fun at this, but I see this as a loss to the teacher profession, two amiable teachers, all well respected by peers and students and as they embarked on their new lives together,
Wham!!
an accident happen and took their lives away. I know that what I am about to discuss may not be related or even remotely related to this, but for the most observant of people, I am now a proud owner of a car. Well actually for around 2 month plus liao. With my
amulet
placed on the windscreen and of course the back of the car, I am immedicately tagged with the "novice driver" Not that I have anything to complain about that, it allows me to make the most
elementary
of driving mistakes while still protesting my innocence that I am not familiar with the roads and rules, you know the
"I-am-a-new-driver-only-please-be-lenient-with-me"
:P. However what this show me what how precocious life is and sometimes when I am on the road, I really prayed that I will bring myself and my passengers alive to their destination. You may think it is silly, but in a small country like Singapore, there are some really f***ing drivers who think
their grandfather own the road
; they weave around the lanes like some maverick high on prozac. But then again I reckon, the
whole bloody road safety
required all to be safe before accidents can be prevented, therefore the only thing is to wish for Santa to take the car away from naughty drivers. HO HO HO!!

Mr Ng Will be teaching Sec 3s next year!!

I am not sure whether it will be good news or bad news, but due to an unforeseen change in the timetable, but I will be teaching some Sec 3 classes next year. Anyway I always enjoy teaching Sec 3 because 1) there is no pressure as they are not the graduating classes 2) I can try any new teaching methods with them and there will be
no pressure
as they are not the graduating classes 3) I will be getting Teachers' Day Presents :P as they are not the graduating classes.
But because of me taking up some Sec 3 classes, I will have to give up some sec 4 classes. Well we will know whether school reopen who are the lucky ones who got away from my
clutches
!!
Have a
happy holiday
and start doing you homework.. time is ticking.... :)