My 2 cents worth on Teachers' Day

It is always the case that the Secondary Fours will always miss the Teachers' Day because it will be in the middle of their prelims. With the majority of my classes from Sec 4, I was expecting a "lean spell" when it come to presents and accolades. But then again like what the standard line that all teachers will said... we don;t need anything, just do well, be a good person and blaa blaa blaa. But again don't all teachers say so. We really mean it *eyes twinkling....*
It was nice that the girls came back.. in their jc uniforms, bringing flowers, bringing cards. It was a great feeling, to see them coming back and knowing that they are back to show their appreciation to the teachers, the very those who were scolding them to get their work done, to work harder and of course to pull their sock up literally and figuratively. But IJ teachers always have a special place in IJ girls. Dont they?
The dinner at the Elizabeth Hotel was an enjoyable one. The teachers let their hair down and some also let their clothes down in some of the ridiculous games that we were playing. And a teacher got thrown in the pool by a "scheming" parent. But we really enjoyed ourselves. A parent gave such a beautiful speech about her two daughters and how the teachers in IJ had helped them. It was a moving speech and it almost got me to tears. In fact teaching itself is such a rewarding job that we sometimes lose ourselves in it. But it was a great feeling.
Anyway I was going to blog about the gift I got. I finally managed to bring some back and these are just a selection of them.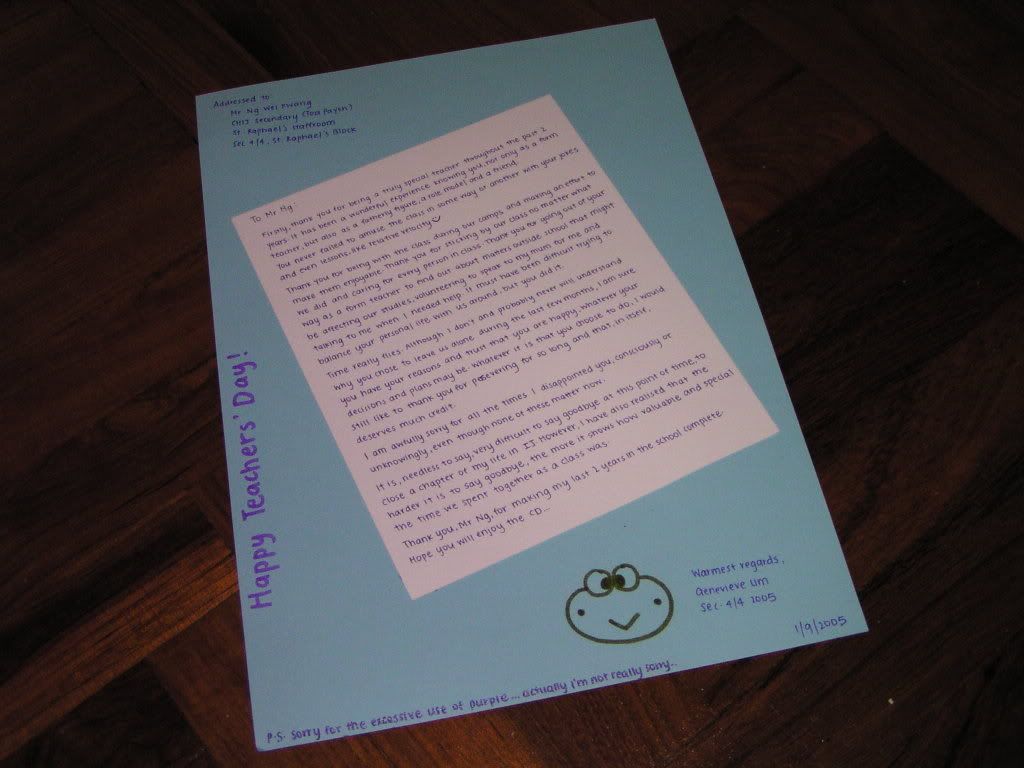 A card from a lovely girl. Thanks for the beautiful card and of course the beautiful CD. I love the music. Just a short private message: Yes Genevive, I do have my reasons and I know that it would be difficult for you people to understand.. But I know that you will understand one day, maybe after the "O"s?
From a couple of girls from Sec 3/2. Thanks for the lovely card and of course for the rest fo the girls , thanks for the chocolate biscuits, the brownies and of course the lovely model ship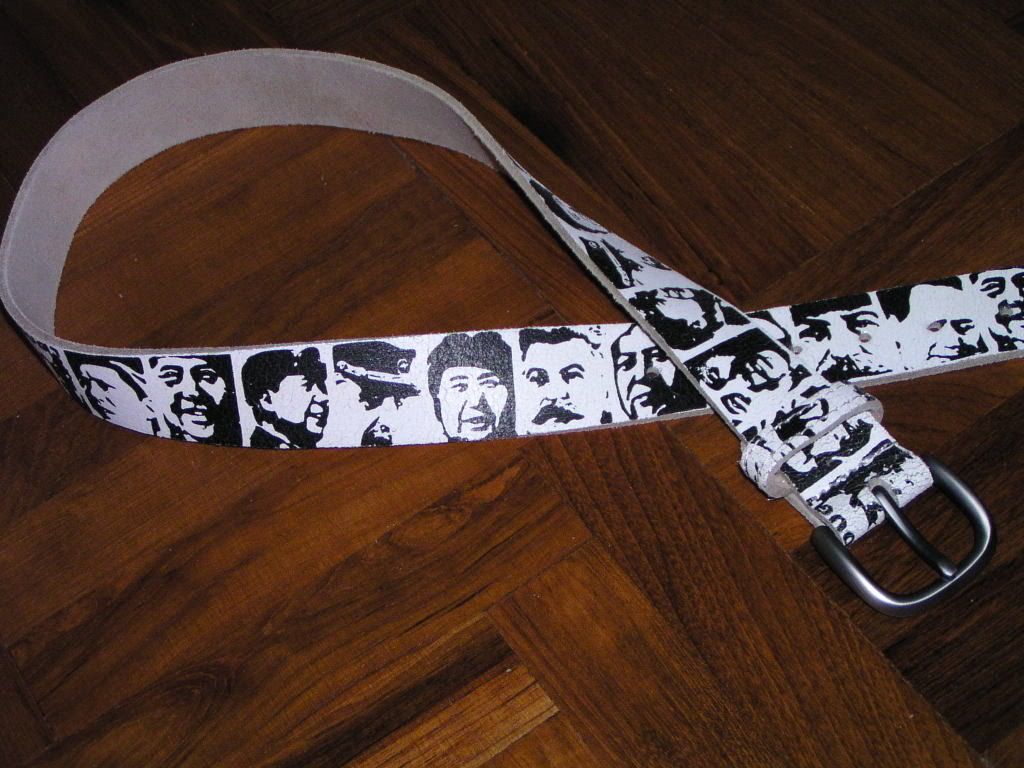 As a tyrant of 4/4, my form class decidd to get me a belt with all the top evil leaders. Cool belt though, but whether I am cool enough to pull it off is another issue all the way and thanks for the subway sandwich.. :)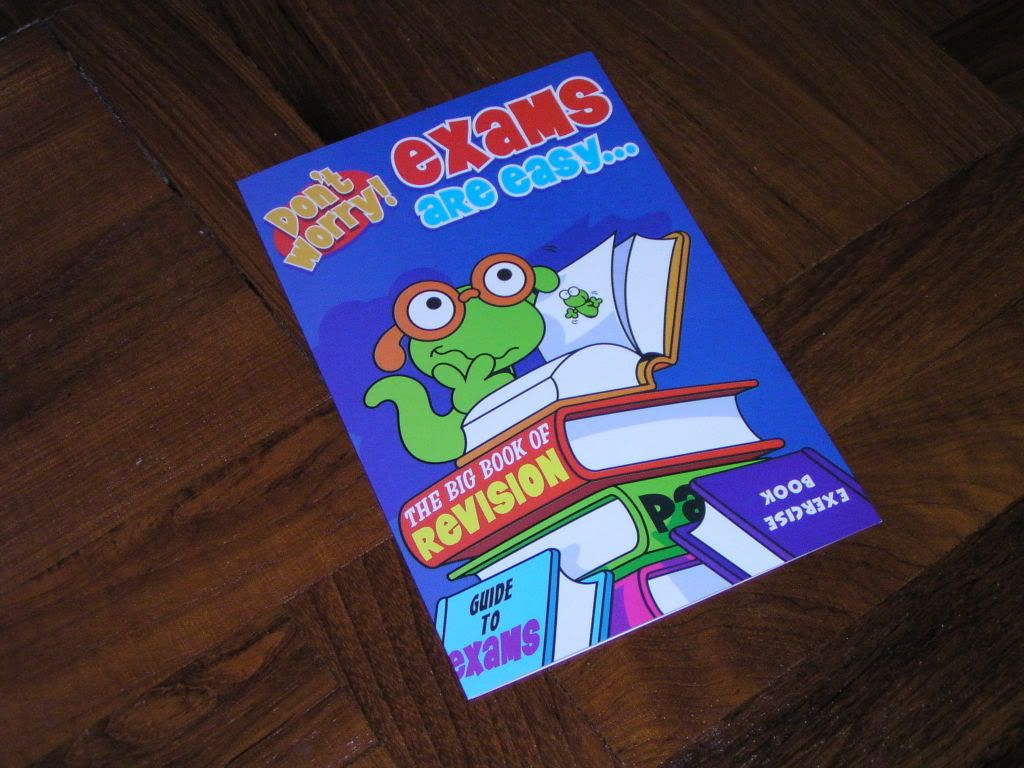 From a scholar, Xuan Thu of 4/1. Lovely card, the bookworm look alittle bit like me though...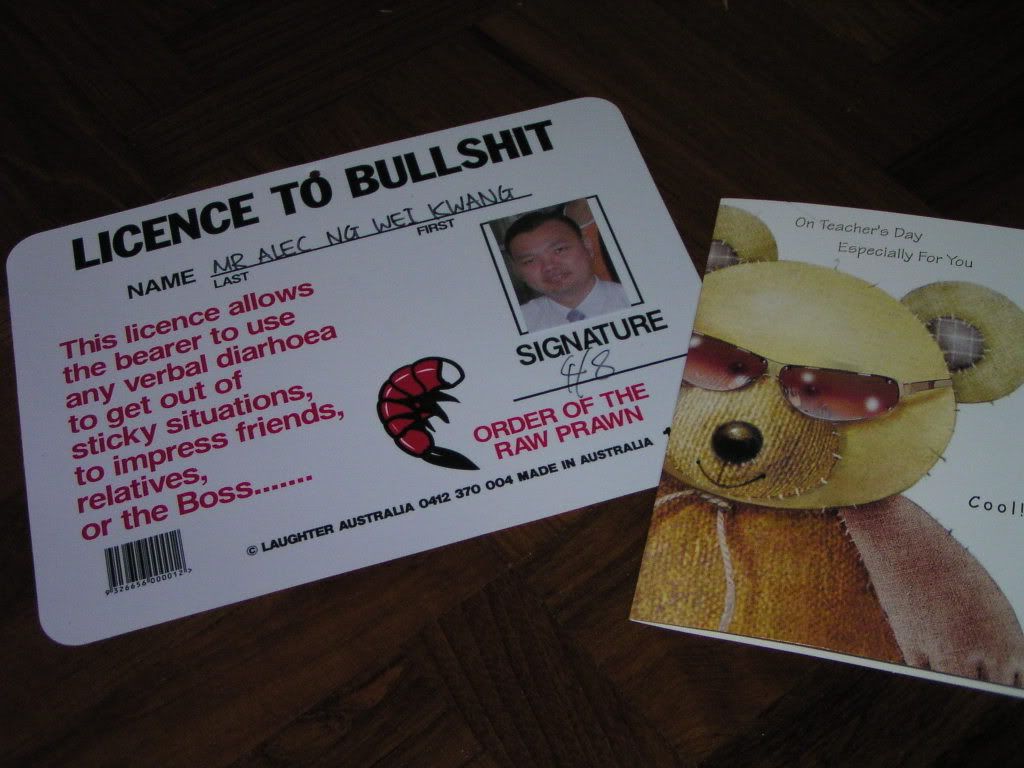 And of course the most offending present I got in my 5 years in IJ. actually I was okay about it. but the teachers who saw the gift were extremely offended FOR me. Maybe I was really telling the students too much crap. Maybe I should really cut down .. Yah that will really be bullshit...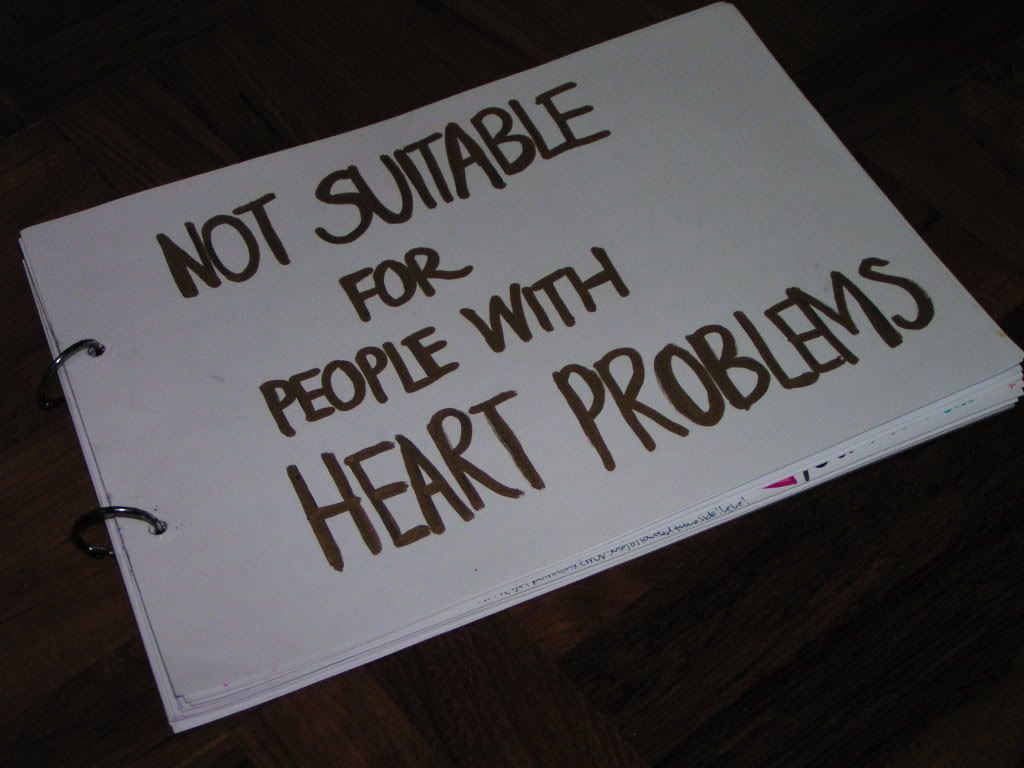 3 silly sweet girls did this mega card-cum-scrapbook. And it really got me crying.. which in fact defy the whole purpose fo this extremely humourous card. But then thanks Fel, Mel and of course Celine who took time to do this when they should be studying for their exams. It is by far the most touching gift I got. thanks again.
There were many many gifts ( actually not many gifts) But thank you all so much for the gifts. If I miss you people in the thanks, that mean I am thanking you from the bottom of my heart without telling the world :P
Tricia and Sarah of RMUN who made that lovely cheesecake for me.
Sec 4/7 for the wonderful CD, and thank Gen for doing it for the class
The RMUN girls for doing that wonderful gesture.
Jess for the cute doggie hp holder
Ann Marie for the nice card
Ha Thu with that pretty hand made card
Yvonne Tan of 4/2 for the lovely stalk of flower, thanks 4/2
my 4/3 2003 girls who came back to talk to me AND
all the girls who send me sms-es of gratitude.
5 years ago I came to IJ, resentful of the fact I have to be here, but 5 years later, I had nothing but wonderful memories of IJ. Thanks!
The Ego One